After a conversation on Twitter early this morning, I was compelled to write yet another blog post as to why, in my humble opinion, it is necessary to educate everyone in body safety to keep all children safe. Body safety must be taught to all age groups and the whole community in order to educate everyone, not just young children. If all adults do not get it, how can we expect our children to get it and have the confidence to speak it and disclose.
My dear friend and colleague Sue Crocombe @shinybluedress keeps beating her head against a brick wall (as many of us do) endeavouring to educate that "children cannot end abuse, but adults can". It should never be a child's responsibility to even think that it's their responsibility to put an end to child abuse of any description. But, in my humble opinion, it is every adult's responsibility to do their bit to end child abuse; it is every adults business to step up to the plate and do their bit to safeguard children from any form of abuse.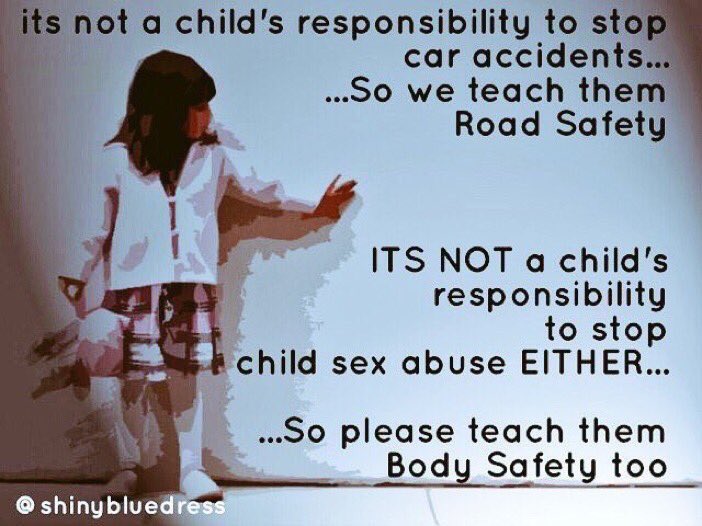 It is every adults obligation to educate themselves with how the groomer grooms their prey and all those around them, that is why the victim is so often disbelieved and the groomer sucks in all those around them, whether it be parents and extended family members, head teachers and all staff, the police, judges and social workers, the community and you and your neighbours. I promise you the groomer will suck everyone in around the victim and that is generally why the victim never tells or cannot tell. I call this "the charming syndrome".
If we continue to hide our heads in the sand, push the discomfort under the carpet, pretend it does not happen "in our neighbourhood" and refuse to voice it, we are shirking our responsibility to current and future children and somewhat complicit in the insidious crime of child abuse. If we turn a blind eye or turn our heads away we are complicit in the abuse and possible death of a child.
It has been suggested that the NSPCC "Pants" programme is enough but if we still are unable to discuss the topic openly with our children and young people; if "Pants" is as far as we go, children and young people (in some cases) will still be unsafe. Each area of the Pants Rule needs elaborating on at every stage of a child's age and development.
Do young children really understand what "private" means?

Even if you think the person loves you?
Always remember your body belongs to you…
Do very young children understand this?

Do groomed youngsters understand this when they are being coerced?

Does the dependent victim get this when they need their substance fix?
Even if it's your boyfriend/girlfriend?

Even if you are given gifts?

Even if it's a parent?
Talk about secrets that upset you…
Lots of secrets may upset a child or young person, how do they decipher

What if they are not told to keep it a secret, but hierarchy tells the victim they must not tell?

What if the grooming makes the victim feel loved and special?

What if a young person is in love with the abuser?
Speak up, someone can help you…
What if they do not know they are being abused, many don't

What if it's too dangerous, shameful, degrading to tell

What if they are scared and have been threatened

What if they have been disbelieved previously
Obviously the lists above are not exhaustive and I am playing devil's advocate, but we all need to play devil's advocate; we all need to look deep inside this subject area and understand that a groomer does not have "groomer" plastered all over them. They are usually very likable individuals who are charming and abuse their power and charm to win over the victim and all those around them. They are often eminent and in positions of power and go onto to abuse their power in order to get away with their crimes. Remember a paedophile and groomer does not want to be caught.
Therefore the "Pants Rule" is only the beginning. We have to educate, dig deep, explain, discuss, train and speak out about the patterns of behaviour a groomer will use to get to his or her prey. We have to not be afraid to use language that informs children and young people as they grow and develop. The Pants Rule is only the beginning, education must be
life
long, informative and at the child or young person's age appropriate level.
There is no legal obligation for an adult to report, this is another important issue for another day. See this important blog post for further information:
Child sex abuse and all forms of abuse are everyone's business, everyone's responsibility. If we as a country are really serious about changing the system then we must, I believe, use relevant qualified experts and survivors to train all agencies; survivors have journeys to share that we can learn so much from. When you have been there, you just know, you have experience and information that is invaluable. When you have experienced abuse, you have first hand knowledge of the behaviours a perpetrator uses and that information is critical in training.
In the long run, safeguarding current and future children and young people from abuse and abusive relationships and educating them in healthy relationships must be our aim and it's imperative we all wake up and stop pushing the comfortableness under the hearth rug.
averyenglishmrsteacup.blogspot.com